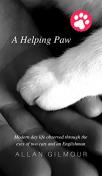 Age Range -
Mature Young Adult
LitPick Review

WATCH THE LITPICK BOOK BRIEF VIDEO!

Allan Gilmour's quaint read, A Helping Paw, follows the musings, revelations, advice, and general conversations shared between two house cats on life and ways to succeed and flourish therein. Through a dialogue-format prose and the somewhat silly yet altogether believable premise of two cats contemplating life's mysteries, this one hundred and twenty-three page novel will appeal to feline fanatics and meditative self-help book enthusiasts alike.
Opinion:
The format of this book is unique and perhaps unexpected, yet fits the conversational plot well. Rather than following a standard novel narrative, Gilmour depicts the scenarios and thoughts of each cat in corresponding quotes in a way that feels similar to reading a transcribed interview or listening in on a phone conversation. Regardless, this technique renders a fast-paced and easily digestible book due to its straightforward and consistently styled prose.
While it may initially seem absurd, the statements and observations of both cats ultimately feel wise, thought-provoking, and genuinely likely. Many consider what their pets may be thinking throughout the day. Through A Helping Paw, Gilmour attempts to answer this. Despite purely consisting of different conversations between the same two house cats, this fact doesn't feel childish or silly and quickly shifts to believable. It is easy to imagine the characters within the book tangibly discussing life, humanity, and being cats, while also evoking recollections or experiences of observing one's own pet. The author has mixed little moments of silliness relating to the cat perspective with more universally-relatable topics such as love, morality, self-identity, and temptation. This helps the book to feel casual and light. It's funny without sacrificing shrewd life observations and judgements applicable to humanity. In fact, in terms of conversation style, character personality and expression, and this book's general atmosphere, fans of Don Marquis' Archy and Mehitabel will likely enjoy Gilmour's A Helping Paw due to evident parallels between the two.
Some may read this book and focus on its unique and amusing nature. Others may put more of an emphasis on the grounded, philosophical debates and advice residing within. Either way, A Helping Paw will likely introduce itself to readers by bringing a smile to the lips and a few chuckles to the throat while concluding with a few realizations to the mind and a fresh outlook on life. All in all, this is an entertaining read of charmingly depicted sagacity perfect for cat-lovers of all ages.
KEYWORDS
CHARACTERISTICS AND EMOTIONS:
ACTIVITIES, HOBBIES, PLACES, AND EVENTS: