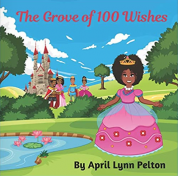 LitPick Review

The Grove of 100 Wishes is a story about an African royal family with three children. The parents send their three children on a journey to a Grove with 100 wishes where they can choose one wish for each of them. Along their journey, the personalities of each child are revealed and tested when they encounter characters and other surprises along the way. Will the siblings reach the Grove with 100 wishes? Will they be granted their wishes? And what will they learn about themselves along the way?
Opinion:
The Grove of 100 Wishes is a great lesson for readers of any age. Not only does the author provide a riveting journey to follow along with, but she also includes quality character traits like compassion and integrity that is beneficial for young readers to learn and recognize. Additionally, the author incorporates strong leadership in the character of Ayanna, and readers can compare Ayanna's actions with her older siblings to discuss what are good and right ways to act towards others. Finally, this book is perfect for young readers because it offers a riveting story with important lessons about character.
Explain your content rating:
It is perfect for readers of any age.
KEYWORDS
ACTIVITIES, HOBBIES, PLACES, AND EVENTS: