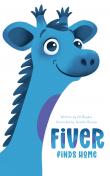 LitPick Review

Fiver Finds Home is a heartwarming story about a unique giraffe finding his place in the world. The story begins with the birth of an unusual blue and purple giraffe in the savanna grasslands of Africa. After Fiver realizes that he does not belong with other animal groups of the savanna, he travels across the world to Savannah, Georgia. In a new place, Fiver discovers that along his journey, he had been given signs leading him to where he was supposed to be. Finally, Fiver finds his true family and learns to embrace his differences.
Opinion:
Fiver Finds Home is not only a heartwarming story about family and belonging, but it is also a valuable story about differences. Young readers will grasp the concept of embracing differences after reading this picture book. Not only does this book have beneficial life lessons for young readers, but it also provides some educational lessons through the animal grouping vocabulary. As Fiver searches for his place among various animals of the savanna, readers see what groups of certain animals are called like dolphin pods and a zeal of zebras. Ultimately, Fiver Finds Home offers readers electric illustrations, broadened vocabulary, and valuable life lessons.
Explain your content rating:
There is some religious perspective in the "signs" that Fiver sees along his journey, but readers could take that as religious or not.
KEYWORDS
CHARACTERISTICS AND EMOTIONS:
ACTIVITIES, HOBBIES, PLACES, AND EVENTS: