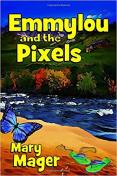 LitPick Review

Emmylou Anders and her family are hoping for a quiet vacation to help Mom recover from her latest round of chemo. Emmylou is upset because she will have virtually no contact with her best friend. Instead, she and her family are going to a place in the mountains. Her father says, "We're going somewhere with no phones, no e-mail, and no one to bother us." Emmylou is determined to have no fun, but when she and her brother, Levi, meet new friends, the Pixels, she begins to have a lot of fun. There is just one problem: the Pixels' forest home is in danger! A logging company wants to cut down most of the trees! Can Emmylou and Levi save their new friends from relocation?
Opinion:
Emmylou and the Pixels is an intriguing book. The title is great but gives false expectations. There are no computers. Mary Mager does a great job showing how much cancer affects families. She also develops Emmylou's character very well. Emmylou's relationship to her siblings is a perfect example of the relationship between the oldest and his or her younger siblings. This book would be great for a third or fourth grade class to study or for ages 8+ to simply read for fun.
Explain your content rating:
There is nothing offensive in this book.
KEYWORDS
CHARACTERISTICS AND EMOTIONS:
ACTIVITIES, HOBBIES, PLACES, AND EVENTS: