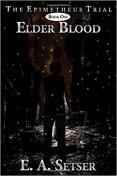 Age Range -
Mature Young Adult
LitPick Review

ArcNos is a country with wishes to conquer, with CreSam, their leader, at the head of it. His reign promises to be brutal and cruel; however, many dare not stand against him. Also, in this world are many other countries that have varying ties to one another. Spread across these countries are people called Hybrids. The Hybrids' unique capabilities make them unmatched in the battlefield. Some have superior eyesight, while others can control water, and they have numerous other abilities. Hailing from many different countries, the Hybrids must unite to return ArcNos to its previously peaceful glory. However, each one's reasons for doing so govern how they act, and some have more noble reasons than others. WIll these Hybrids be able to survive long enough to end CreSam's reign? Will anyone else join them in their quest, not for glory but for the love of what ArcNos once was?
Opinion:
Elder Blood astounded me. The book is filled with characters who are introduced in such a way and in a sequence that I got to know each one. Even the background characters have thoughts and feelings that come to mean something. This novel takes place over many years and, as a reader, I feel the weight and the change that those years bring upon the cast of characters. Even after reading the whole book, I still remember its beginning days very vividly.
The diction in Elder Blood is strange at times, with words that modern society would not commonly use thrown in there, and it does not make the book feel like a distant world but more like someone pulled words from a dictionary or a thesaurus. Furthermore, the characters occasionally act in extreme ways that do not seem realistic. It is understood that these characters grow up in troubling times, but I find it hard to relate when they overreact. However, the setting is wonderful because different countries are represented by various goods and lifestyles. Each country can be identified by a few traits that are kept the same throughout the book. Overall, this novel is wonderfully detailed despite its transpiring over many years.
Explain your content rating:
There are quite a few curse words, which are used, understandably and realistically, in dire circumstances. There are also scenes in which the reader knows two of characters are having sex, but no details are provided.
KEYWORDS
CHARACTERISTICS AND EMOTIONS:
ACTIVITIES, HOBBIES, PLACES, AND EVENTS: