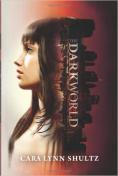 LitPick Review

Paige Kelly lives the lonely life of an outcast. Ever since an unfortunate accident where she was dead for under a minute, Paige has had the ability to talk to ghosts; a talent that is great for making friends with dead girls from the fifties, but less endearing to the typical modern-day high school crowd. Unfortunately for Paige, her brief death also makes her the perfect medium to open portals to the Dark World, a horrifying, monster-infested parallel world run by evil demons who want Paige in their possession to use her talents. They send three demons to kidnap her and bring her to the Dark World. Luckily for Paige, the cute new boy at school, Logan, just so happens to be a skilled demonslayer tasked to protect her, and he takes her and her talents perfectly seriously. With Logan's help, Paige begins to learn to protect herself; plus they both start to feel more than friendship for each other. But Paige knows there's a bit more to Logan and his life than there seems; will it be too much?
Opinion:
Cara Lynn Shultz's The Dark World is a fast-paced, emotional adventure of wild power, terrifying evil and blossoming love. Readers will experience Paige's every emotion and watch all of her adventures unfold with Shultz's detailed storytelling. The few major writing letdowns for this reader were the overuse of some coarse language that didn't add depth to the novel, some rather insensitive sexual references and innuendos, and the feeling that the plot was a mix between high school drama and relationships and heavy duty fantasy demonslaying. Many teens prefer just one genre; it was sometimes hard to tell which theme was more dominant, though both were enjoyable. Overall, The Dark World is a fun, page-turning adventure that will appeal to junior high/high school girls in particular.
Explain your content rating:
Some coarse language and sexual references/innuendos were present.
KEYWORDS
ACTIVITIES, HOBBIES, PLACES, AND EVENTS: