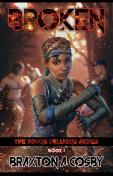 LitPick Review

"As I grew older, I understood that God just has a way of letting things happen and you must live with the outcomes."
Broken: The Young Hellions Series Book 1 by Braxton A. Cosby is a story about the aftermath of the nuclear holocaust, "Great Drop". A conflict between Ukraine and Russia led to a war, leaving widespread devastation. After the war, nothing was left but the Deadlands. Of those who survived, various separate groups of survivors formed. Some became Horders, and some were taken into the Establishment or turned into Ashers. Ashers are like zombies, altered by nuclear radiation; they feed on human blood, have extraordinary strength, and kill everything in their path. Horders are humans but thieves in the Deadland. The Enforcers run the Establishment; they are prosperous and live a lavish life. Slaves are the highest currency in this new world. One such slave is Keesa. She is seventeen years old and lives under the Establishment. One day Keesa and her friends plan to escape from the Establishment for their freedom, seeking out the Resistance. Can they escape carefully and reach the Resistance? Or will they be captured by the Hoarders, or worse, by the Ashers?
Opinion:
In Broken: The Young Hellions Series Book 1, I liked how the author used the current crisis, the Ukrainian – Russian war, as the beginning of the story. He made us aware of what could happen if we don't stop fighting now. The description of the slaves' lives in The Establishment by the Enforcers in the aftermath of nuclear destruction and how they are being tortured and killed gave me some goosebumps. India was ruled by the British Empire for almost 200 years, and many books have been written about how they treated us as slaves. I have also heard some stories from my grandparents about how they abused us. After reading the book I can relate to some parts.
The author refers to God in the story, as in the quote I chose to include at the beginning of my summary. At such a bleak time, it is a bit hard to conceive of people like those who went through the Holocaust during World War II or a nuclear holocaust as in this story still having faith in God, but as the quote says, God has a reason for why things happen and we need to handle the outcome. I feel that God can be a believable entity, even in a post-apocalyptic world because God is an energy that you feel. Like when we were little and we were afraid of something, and we always looked to our parents for answers, we thought that they could save us from anything. At that time our parents are gods to us. But the question is who will be the new god in a post-apocalyptic world where not a single new baby was born? In my opinion, Mother Nature will be their new God.
This book also clearly shows that you cannot execute a plan alone; you need people to help you. Keesa has to rely on her friends to carry out the plan. At the time of escaping, she doesn't have a plan B but her friend does. Not everything goes according to our plans in life too; there will be mistakes and consequences.
What I love most about this book is the main character, Keesa, trying to protect family and friends but losing some and saving others. As she tries to protect them, the suspense took me on an emotional rollercoaster.
Broken by Braxton Cosby is exciting, full of suspense, and heart-warming. I am looking forward to reading the next book in The Young Hellions series.
KEYWORDS