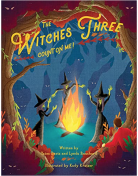 LitPick Review

Readers will embark on a riveting journey through dark, star-filled skies on a broomstick in The Witches Three Count on Me! The book follows a young boy filled with curiosity and confidence who runs away from home on Halloween night. He comes upon three witches dancing around a fire, and the story heats up! Read The Witches Three Count on Me! to find out just how mischievousness can lead to spooky situations and be prepared for a brisk adventure through the woods on this dark Halloween night!
Opinion:
The Witches Three Count on Me! is the perfect book to read every night in October leading up to Halloween. This book will take readers soaring through the skies where they will experience curiosity, rhyme, and imagination. Not only does this book fit perfectly into a Halloween night's events, but the story also encourages curiosity, bravery, and wit. Readers will expand their vocabulary from the animated rhymes, and their skin will prickle with goosebumps from this lively story!
Explain your content rating:
There is nothing offensive about this book, but it is about Halloween, so parents should be prepared for some possible fear.
KEYWORDS
CHARACTERISTICS AND EMOTIONS:
ACTIVITIES, HOBBIES, PLACES, AND EVENTS: