The Witches Three Count on Me!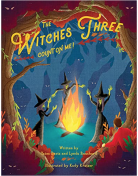 The Witches Three Count on Me!
A mischievous little boy runs away from home on Halloween night. He comes upon three witches in the dark forest behind his house and a whirlwind of adventure begins. How will he escape as they try to capture him? The boy discovers he can do extraordinary things and that grownups don't have all the answers.

Early Readers (age 5-9) will love discovering dazzling new words and figuring out the rhyming riddle that saves the boy from being captured. Illustrations by Kody Kratzer add an atmosphere of vibrant whimsy. A book that can be read alone or with others, this is a Halloween treat that will be enjoyed throughout the year.