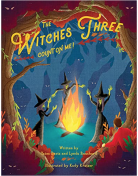 LitPick Review

It is Halloween, and a young boy is sent to his room. He runs off into the forest, wanting to play a trick on his mother. But as he goes in deeper, he spots three witches! They see him and circle him and take him off to their house, wanting to add him to their stew. The boy knows he must think quickly to escape and convinces the witches to let him go if he can create a riddle they can't solve. But will his wits be enough to save him?
Opinion:
Overall, this was a very entertaining book. I really liked all the descriptive language in this book such as describing the woods as "Twisted, burned, and black". These words brought a very spooky feeling to the setting of the book. I also liked how this book incorporated math, and the riddle was tricky. It tricked me just like it tricked the witches. I think this book is great to get kids excited about math, and the author did a great job of bringing numbers into a fun story!
Explain your content rating:
There is nothing offensive in this book.
KEYWORDS
CHARACTERISTICS AND EMOTIONS:
ACTIVITIES, HOBBIES, PLACES, AND EVENTS: