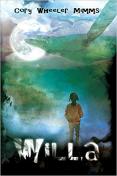 Book Review

WATCH THE LITPICK BOOK BRIEF VIDEO!

Willa is the story of a girl who has spent her life traveling around the world to military bases with her dad. Her father gave her a statue of a creature he calls Baku, a dream-eater. One night, the figure is knocked off of her nightstand and shatters. This is devastating. Willa has always had a vivid imagination. Now her dreams become a second reality. She meets new friends and is given a quest to defeat an age-old enemy of the dream world. Baku. Using her newfound power, she sets out to defeat him. Will she succeed, or will this evil monster devour her as well?
Opinion:
Willa is a wonderful coming-of-age story that portrays imagination as an escape and a world beyond most of our wildest dreams. I enjoyed the vivid descriptions of characters and events. The characters were realistic and relatable. I would love to read Cory Wheeler Mimms' other book, Trailing Tennessee, as Willa has set high expectations. I hope he continues to write more books.
Explain your content rating:
Willa contains no offensive content.
KEYWORDS
CHARACTERISTICS AND EMOTIONS:
ACTIVITIES, HOBBIES, PLACES, AND EVENTS: