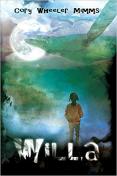 After tragedy disrupts her life, Willa escapes her grief by venturing into fantasy. But she soon wakes Baku, a creature whose sole purpose is to devour the threads that tie dreams to reality.
With the beast in pursuit and her new friends, Benny and Hadley, helping her, Willa is thrust into adventure. To overcome Baku, she has to find the only person who ever faced the monster and survived, a reclusive old woman who lives high in the mountains.
This coming-of-age story contains moments of comedy, but it ultimately deals with overcoming fear and loss.Willa is about a young girl returning to the United States after having lived her whole life on military bases overseas. It is a discovery of a home she has never seen, and the realization that she can build the world she wants to live in.
Book Details
Genre:
Adventure
Fantasy
Fiction