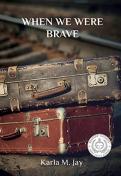 Genre -
Historical Fiction
LitPick Review

When We Were Brave tells of three very different characters and their very different stories of bravery during tragedy and hardship. With WWII as the backdrop, the three stories are each told from a unique point of view: through the eyes of a child, an SS officer, and a German-American. The child, Izaak, the son of a Jewish man, experiences the challenges of losing his father and then being sent to multiple concentration camps. Herr Falk, the SS officer, comes to grips with the true horror of what his country is doing and tries to do what is right despite the threat of losing his own life. Finally, Mr. Muller, a German-American, and his family face severe discrimination from not only his neighbors, but also the very country he now loves and serves, all because of his German heritage. This book skillfully brings together this trio of characters and their stories in a way that is realistic and moving.
Opinion:
I have read many WWII books, and this is now a favorite! The author does a marvelous job of drawing the reader into not just one character but all three equally. I especially love the aspect of the war on the homefront—in America—and what it did to its own citizens, not a story that many WWII books include. Yet the story does not bring any political agenda into the book, as it simply tells the story as it could have happened to many German-Americans. The narrative also makes the stories both personal and realistic without getting into too many gory details about the atrocities of the war. Last, it brings the characters together at the right time and in a way that is not predictable—realistic yet not overdone. I cannot praise this book enough!
Explain your content rating:
Since the book is set in the era of WWII, the narrative relays the realities of the war—shooting, death, cruelty, and so on. However, it is not overdone or vulgar.
KEYWORDS