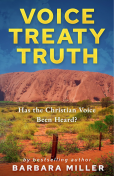 Age Range -
Mature Young Adult
LitPick Review

Voice Treaty Truth was written by Barbara Miller was written in two weeks! Even though quickly written, the important subject matter is not presented without thought. In fact, Barbara Miller and her husband, Norman, have been involved in the aboriginal cause in Australia for decades. Her insights in this book are passionately and clearly reasoned. As with other racial issues in societies today, the issues in Australia are intensifying. This book was written quickly to address a very specific referendum. Barbara Miller makes the case that the Christian witness has not been clearly heard in this present debate. Critical theory and wokeism have been heard, and the end result of listening to these progressive voices will not be equality. The aboriginal voice will be further suppressed. Miller makes some very compelling arguments that should give pause to anyone considering the issues of the present referendum and rethink their own position and which side is actually advocating for equality and an end to racism. For example, real forgiveness and reconciliation, while much more difficult, will reap greater rewards for everyone than something like reparations. Miller's experience comes through her compelling and passionate arguments. The reader can tell that she cares about the people about whom she writes and for whom she advocates.
Opinion:
Barbara Miller's book, Voice Treaty Truth, not only sheds light on a present and pressing referendum in Australia, but it also exposes the presuppositions and biases inherent in critical race theory and wokeism. Critical race theory is racist itself. It advocates a reverse-racism or revenge-racism. Wokeism presents people groups as oppressed and sees all social and political interactions as power struggles. Neither of these systems truly see people as people. Christianity does. Miller has done some excellent work here, not only exposing the lies and biases of these systems, but also positively showing a better way forward. The better way forward is to listen to the Christian voice. While I suspect that I would share some different theological views with Barbara Miller, I am in agreement with her that the Christian witness (from the Bible) would help this present situation in Australia. I believe the Christian witness would help the present unrest and conflict in every country. If only people would listen. I hope Miller's book gained some traction among her fellow Australians and that her book was able to change the minds of the people involved in this vital national discussion. In the end, listening to opposing views and debating the issues is what democracy and civil discourse are about. The world is losing the ability and desire for such debates, and that loss will make everyone's life less hopeful.
Explain your content rating:
The Christian perspective (or worldview) is applied to a particular political and social referendum. I didn't find anything in the book offensive, but the book does deal with serious issues of race and culture.
KEYWORDS
CHARACTERISTICS AND EMOTIONS:
ACTIVITIES, HOBBIES, PLACES, AND EVENTS: