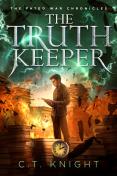 Genre -
Historical Fiction
LitPick Review

WATCH THE LITPICK BOOK BRIEF REVIEW VIDEO ON AMAZON!

Fritz Braun's life is turning upside down. His grandfather is dead, and everything he has ever believed in is a lie. He has suddenly become the keeper of the book - God's book - and must teach other followers what he learns from the book. Through the book, Fritz makes many friends, but with it also comes a huge responsibility. He must protect himself and the book, but what about his friends?
Opinion:
The Truth Keeper is an amazing book filled with betrayal and tension. I would recommend this for kids no younger than 12 because of the amount of bloodshed. Although fiction with a bit of fantasy, The Truth Keeper is a thrilling book that represents World War II well. Characters are vivid, and Fritz is a dynamic person, making him very relatable. The Truth Keeper grabs the reader's attention from the first page, making it a great read for reluctant readers.
Explain your content rating:
There is some bloodshed and content that may be disturbing to young readers but nothing extremely inappropriate.
KEYWORDS
ACTIVITIES, HOBBIES, PLACES, AND EVENTS: