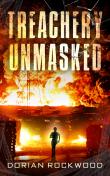 Genre -
Historical Fiction
LitPick Review

For all his life, Sammy Taylor has been a famous child actor. Once he realizes that he will soon be too old to continue in the child actor industry, Sammy starts to scout for roles that are more fit for his age. However, when Sammy's mother gets arrested for passing a counterfeit $20 bill, his whole life gets flipped upside down. His mom is his only guardian, and even worse, he was the one that gave her the counterfeit $20! He didn't do it on purpose of course, but how is he supposed to explain to the police where he got the money when all he knows is that he found a stack of it and kept it? He decides to launch his own investigation into where the money came from, and Sammy realizes that it goes way beyond just one stack of money. Will Sammy be able to figure out what really happened? And will he be able to clear his name and get back into the acting industry before his career is gone for good?
Opinion:
Overall, this book was a great read. First of all, I liked the concept of telling the story from the perspective of a child actor, and I think the author did a good job of capturing this tone. We were able to see multiple parts of Sammy's personality, like the maturity he has gained from acting, but also the innocence he has as someone who is still a child. The plot itself of the book was very exciting, and I liked the idea of Sammy being the one to find the counterfeit bill and later being the one who investigates it. Additionally, I enjoyed how this book was fast-paced and full of adventure. No part of the story felt dull or dragged out. This book took place in the 1940s and the author's language throughout the book, such as mentions of listening on the radio for the news and newly founded Coogan legislation protecting a child actor's earnings, made it seem realistic that the story was taking place in that time period. Overall, I think this is a great book for readers looking for a book filled with adventure and mystery!
Explain your content rating:
This book is mostly appropriate for young children.
KEYWORDS
CHARACTERISTICS AND EMOTIONS:
ACTIVITIES, HOBBIES, PLACES, AND EVENTS: