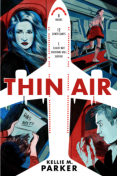 LitPick Review

Thin Air is Kellie M. Parker's debut novel. It is a thriller about teens on a plane competing for a scholarship. This scholarship would give the winner four years at an Ivy League school, community service experience, and a mentorship. All 12 contestants are flying on a double decker plane to Paris. The competition begins on the plane, and when they get to Paris, two people will be eliminated. But every contestant is hiding something, especially Emily. When a mysterious announcement reveals the contestants' darkest secrets, and multiple teens turn up dead, everyone will begin suspecting one another.
Opinion:
I found this book exciting to read, especially the first scene, a flash forward that didn't reveal all the details. After that, all the characters needed to be introduced, and their descriptions sometimes slowed down the pacing. My main problem with this book was the twist. It felt vary random and left me with a lot of questions. But on the whole, the author wrote in a way that held my attention and made me want to keep reading.
I thought that first person was a good POV choice for this book. It made the main character, Emily, seem more relatable and redeemable, whereas if the POV were third person, she would have seemed less likeable. For example, when she kissed her best friend's boyfriend. If it was in third person, a reader would have judged her very harshly. But since it was from her perspective, it seemed more like an understandable mistake. I also enjoyed the fight scene at the end, since I recognized a lot of the moves. (I train Krav Maga, which is an Israeli self-defense system.) Overall, Thin Air was entertaining and enjoyable to read, and I would recommend it to teens who enjoy reading murder mysteries and thrillers with a hint of romance.
Explain your content rating:
Mentions of suicide, one death framed as a suicide, descriptions of dead bodies and blood, intense fight scenes, mentions of abortion and an abusive stepfather.
KEYWORDS
CHARACTERISTICS AND EMOTIONS:
ACTIVITIES, HOBBIES, PLACES, AND EVENTS: