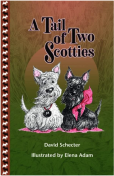 LitPick Review

"A Tale of Two Scotties," written by David Schecter and illustrated by Elena Adam, is a delightful animal adventure about two Scottish Terriers named Piper and Mac. These pups are siblings who spend their days chasing critters in their backyard, waiting for their next meal, and going for walks - walks that always lead to Piper going one way and Mac going the other. When the pups learn their family is taking a trip to Grandma's, they are overjoyed that they will soon be able to explore her farmland and meet and chase new friends. Their excitement is soon for nothing when the family leaves them at home. Despite their devastation, the two pups refuse to stay home and wait for their family's return. Instead, the brother and sister duo decide to make their way to Grandma's house all on their own.
With this journey, what the Scotties thought was just going to be a long walk with a rewarding destination, brings forward some unfriendly characters and uncertain moments. Despite the challenges they encounter, Piper and Mac remain determined to reach Grandma's house where they are certain that they will be welcomed with yummy treats, farm animals, and their loving family. They knew it wouldn't be easy but it would be well worth it.
Opinion:
The words that come to my mind when I reflect on "A Tale of Two Scotties," written by David Schecter and illustrated by Elena Adam, are descriptors such as adorable, sweet, and funny. This book is suited for children ages ten to twelve who are independently reading, or younger, if enjoying it being read to them.
This book brought a smile to my face multiple times as I read about the journey of these two pups. It's a story that brings happiness to the reader. Piper and Mac are traditional dogs in ways such as their love of food and passion for protecting their house from squirrels. However, their characters are ones that allow the reader to learn about the Scottie dog breed while experiencing their journey. I found myself becoming quite attached to Piper and Mac by the end of this story as I loved their sibling relationship. Despite their obvious differences in personalities, they still loved and cared about each other.
Throughout this book, I enjoyed the light sense of humor that carried through the siblings' journey. It is a storyline that would make an adorable animated film as it was simple, sweet, and enjoyable! The illustrations were beautiful and added such character to the siblings' journey.
As a teenager who provides childcare to a variety of different ages of children, I plan on adding this book to my babysitting bag. I think the children I care for will enjoy this book immensely and I am very excited to see how much they love it!!!
KEYWORDS
ACTIVITIES, HOBBIES, PLACES, AND EVENTS: