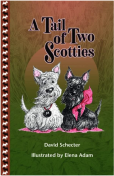 A Tail of Two Scotties
A funny, heartwarming adventure written and illustrated by a couple of Scottish Terrier lovers, A Tail of Two Scotties tells the story of Piper and Mac, stubborn Scotties who are opposites in many ways. When their human family takes a trip to Grandma's farm without the dogs, the terriers are none-too-happy about missing out on a visit to their favorite getaway spot.

Managing to escape from their house, Piper and Mac decide to make their way to Grandma's on their own, encountering a series of dangers on their long journey. And with both of them being leaders rather than followers, this presents the Scotties with some major challenges.

Whether the independent canines can overcome their differences is anyone's guess in this fast-moving doggie tail! Featuring charming illustrations by Elena Adam.