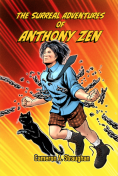 LitPick Review

The Surreal Adventures of Anthony Zen written by Cameron Alexander Straughan is a collection of short stories about the life of a man named Anthony Zen, written in a hilarious and sarcastic manner. Most of the short stories in this book are around five pages long and capture a moment from Anthony Zen's daily life. From stories of Anthony accidentally mistaking a grocery store for his own house to him furiously rushing to work only to remember it was his day off, Anthony's stories are always full of adventure. Despite the stories being short, each story contains a plot twist of its own and is told with a tone of dry humor. This book is perfect for readers looking for a collection of short stories about aspects of daily life that is sure to make them laugh!
Opinion:
Overall, I really enjoyed reading The Surreal Adventures of Anthony Zen. I think that the author did a great job of keeping sarcastic and funny throughout the book, and reading this book made me laugh out loud quite a few times! This book is perfect for any reader looking for a book that will make them laugh, especially if they can appreciate dry humor. One thing that I particularly liked about this book was that each of the short stories was connected in terms of the settings and characters, but could still be read apart and out of order. This is a great book to pick up whether you only have a few minutes to read and would like to read a few stories, or if you would like to sit down and read it all at once! When I first started to read this book, it took me a while to get used to the tone of the author since it was very sarcastic and witty compared to most other books I have read. This led to me being a bit confused while reading the first few pages, but once I got used to the author's tone, I started to really enjoy the stories! I would recommend this book to older readers as there is some mature content within the stories, and I think the humor in the stories would be better understood by older readers!
Explain your content rating:
This book is definitely intended for an older and more mature audience.
KEYWORDS
CHARACTERISTICS AND EMOTIONS:
ACTIVITIES, HOBBIES, PLACES, AND EVENTS: