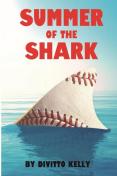 LitPick Review

Summer of the Shark is a funny, laugh out loud book based in the 1970's.
The main character, 12 year old Ryan Sullivan, is forced to spend the summer taking care of his grandfather after his grandmother's death.
And you guessed it! That means no hanging out with friends, no watching Reds baseball games, and no chocolate chip ice cream from Greaters.
But, Ryan's irritation turns to awe when he meets his grandfather. As it turns out, he shares Ryan's love for cars. He even has a 1965 Series 1 E-type Jaguar! Now that's Ryan's type of guy!
Although Ryan's awe turns to fear when he finds out that Martha's Vineyard, where is grandfather lives, has actual sharks there!
Now don't get me wrong, Ryan loves reading about sharks as much as the next guy, but seeing sharks in real life makes Ryan feel a little green around the gills. Hopefully, he won't see any on this trip.
That's what Ryan hopes anyway.
Unfortunately, at Martha's Vineyard sharks can be found just about anywhere in the water.
Will Ryan be able to avoid them like he hopes? Or will he see some with his very own eyes and face his fears?
Opinion:
This is a very good book! I would totally recommend this book to a friend, especially a shark lover!
Ryan's quick shark knowledge gave me a lot of insight into sharks, which I thought was a really good touch to add to the book. I also really liked the humor throughout the book.
All of the details the author added in this book really make you feel what it was like to live in the 70's! I mean, wall to wall paneling in the house - now that's a 70's house for sure!
Explain your content rating:
Some language, but not too much. It is the 70's after all. Probably no words no one hasn't heard before though. Not too bad, great for kids ages 12+
KEYWORDS
CHARACTERISTICS AND EMOTIONS:
ACTIVITIES, HOBBIES, PLACES, AND EVENTS: