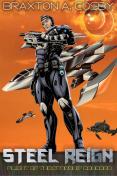 Age Range -
Mature Young Adult
LitPick Review

CLICK HERE! to view LitPick's Book Brief Video for Steel Reign: Flight of the Starship Concord

Steel Reign: Flight of the Starship Concord follows the harrowing journey of the spy, Steel Reign, and his struggle to retrieve his sister, Olia. Reign's sister is very different from him. Whereas he has all the brawn, Olia has the brains. Reign felt compelled to turn to the life of a thief and spy, while Olia graduated at the top of her class and set down a more traditional path. Now, after getting in a tight spot, Olia is captured by the space pirate, Forge, and is forced to compete in the Arena of Sport. This arena is incredibly deadly, and it takes a lot of luck and skill to stay alive. Reign must save her before it's too late, but the stakes are raised when he finds out Olia is the only source of a cure for the deadly virus inside of him. Teaming up with the mysterious hacker, Gifford, Reign sets out to free Olia before her luck runs out. Will Reign be able to successfully save his sister in time? Find out!
Opinion:
Author Braxton A. Cosby wows me again and again with his books. All of his books have amazing world-building and great attention to detail, with likable characters and vivid plots. Steel Reign is no exception, with its realistic sci-fi universe rife with lots of exciting technology I've never heard of before. Even with tech alluded to in other sci-fi books, this author manages to apply those concepts in new ways. For example, his hydrogen-based gun named Martha is a type of weapon I've never really read about before. Think of a weapon firing bolts of plasma and you'd be getting close. This book reminds me of the Wanderer series by Simon Goodson and also Randolph Lalonde's Spinward Fringe series. I recommend this book for ages 13 and up, as there is some killing.
Explain your content rating:
This book has profanity, sexual references, and scenes that depict killing.
KEYWORDS
CHARACTERISTICS AND EMOTIONS:
ACTIVITIES, HOBBIES, PLACES, AND EVENTS: