Steel Reign: Flight of The Starship Concord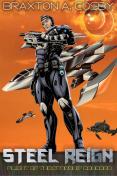 Steel Reign: Flight of The Starship Concord
A Thief turned Spy, turned Bounty Hunter, turned Hero!

After surviving an all-out implosion of catastrophic proportions following the failed fusion of twin stars Mira A and B in a class B Supernova, the people of galaxy Proxima Centauri have pressed forward with dreams and hopes of finally living in peace. But for Bounty Hunter Steel Reign, the clock of destiny is speeding ahead at a steadfast pace as he desires to hunt down a group of rogue super-soldiers before they can plot against King William Derry and his kingdom on planet Fabricius.

Consistent work as a Hunter in Proxima Centauri has always been a feast or famine occupation, and when the flow of credits slows to a snail's pace, Reign must find a secondary means of funding to finance his seek-and-destroy assignment by way of scalping a precious artifact on the open Black Market. That is, until his supplier comes up short, forcing him to pump the brakes and fall back to Plan B: finding his long lost sister, Olia, who was captured by the space pirate Forge and forced to compete in a deadly game of chance aboard the Eclipse. And if that weren't bad enough, the stakes are raised when he discovers she is the only source of an antibody that can offer a cure for the deadly, venomous DX virus lurking in his blood and just waiting to consume him.

To survive, Reign will have to test not only his skills as a legendary assassin but also his patience as he takes on a rogue band of misfits to steal and crew the prototype starship Concord to thwart Forge's plans once and for all.
Book Details
Genre:
Adventure
Fiction
Science Fiction
From the Publisher
A WORD TO THE READER: You don't know it as of yet, but you are about to be the willing participant in a social experiment. Well, not really, but something akin to one. Throughout the text, the author has intentionally opted to exchange words for numbers. For example, one will be the numeral 1, two for 2, and so forth. This is his 16th novel and, as such, he decided to have a little fun with it. The purpose of such a trial is to keep the reader's mind alert throughout the entire story. He did this because, well, he really likess this 1 and wantss you to remain as focused as possible. This book is a fulcrum to connect the tale of William and Sydney in The Star-Crossed Saga to the upcoming larger project the author iss currently weaving together in the Proxima Centauri Universe. And so, without any more delay, please enjoy Steel Reign's story.