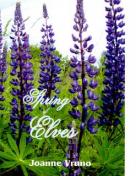 LitPick Review

Spring of Elves is the final book in the Seasons of Elves series. We have followed Aly and her sister Emily throughout their development as guardians of the light elves, but this will be their toughest adventure yet.
Queen Elin has just arrived with a large group of light elves directly in Aly's grandma's living room! Nobody knows what this could mean. The queen tells them that she had heard of the light elf Kopper and her magical ability to turn rock elves back into light elves. She had been so impressed by this ability that she tried it herself. The result is the one hundred new light elves standing in Grandma's living room.
Both villages welcome the new light elves with open arms, but not all is well. Terrifying creatures are being spotted by the guardians, including a lindorm (a half dragon-half snake creature). With these new dangerous creatures attacking them, the small group decides to go on the offensive and start turning more rock elves into light elves. Will they succeed with their plan? You won't be disappointed with this action-packed conclusion!
Opinion:
I thought Spring of Elves was an amazing book! The way Joanne Vruno developed Aly and her sister's characters made them more and more likeable as the story went along. Like all of the other Seasons of Elves books, the descriptions were captivating. From the gigantic and ugly ogres, to the tiny and caring light elves, I found myself feeling as if I was right there in the story.
Because this book picks up immediately where the last left off, I don't feel this is a stand-alone book. I would recommend it to anyone who has read and loved the first three books. I would encourage anyone to read them. As a whole, I loved the Seasons of Elves series from the very start to the final page.
Explain your content rating:
There is some mild fighting and one creature that dies.
KEYWORDS
CHARACTERISTICS AND EMOTIONS:
ACTIVITIES, HOBBIES, PLACES, AND EVENTS: