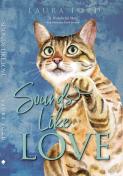 LitPick Review

In the book Sounds Like Love, the author, Laura Ford, tells the story about the ability of a Little creature to make a Big difference in human life. Moreover, the book shows the limitless human strength, able to withstand the blows of fate, on the way to becoming the best version of yourself. One of the key events that changed the life of a 19-year-old girl named Wendy was the loss of her beloved grandmother. She was the only person who understood Wendy, who she could open up to, and who she could confide in. Another such event was the appearance of an unusual cat that her grandmother had left specifically for Wendy. Wendy's grandmother knew that the presence of a four-legged friend would help her granddaughter keep her spirits up even in the face of all the difficulties that awaited her in the future. Wendy only has to decide whether she is ready to accept such a friend in her life and what consequences this decision will bring.
Opinion:
This literary creation gives faith in many things. At first glance, the plot may seem too naive. But in my opinion, everyone wants to plunge into a reality where everything turns out for good. The characters in the book are interesting and diverse. Each of them made some changes in Wendy's life and contributed to her development as a person. As a result, under the influence of all these people, Wendy was able to become stronger, believe in herself, and find peace of mind. Like a butterfly releasing itself from its fetters, Wendy is reborn, discovering new facets of her possibilities and understanding and accepting her new self. The author's writing style makes it easy to create images of characters and surroundings in the imagination. Everything is described vividly with attention to the smallest details. In case imagination is not your forte, you can get the full picture by looking at the equally detailed and wonderful illustrations by Fiona Kerridge. Her freehand drawing style adds warmth and coziness to the book. Throughout the book, the author nurtures the key message of the book, which is the ability to appreciate what you have. Not surprisingly, in this fast pace of life we often forget about it. But sometimes it's worth to stop and look at our lives from the outside and realize that we definitely have a lot to be grateful for. But if losses are inevitable, it is important to remember that behind every turn of fate, there is an opportunity to acquire something new, no less important. All you have to do is become more open to the world so that it can share its gifts with you. I do recommend this book to both juvenile and adult readers. I also recommend reading it to those who want to break free from the routine of everyday life and have a good time. This wonderful book will give you bright and kind emotions that we often lack in real life. I hope in the near future we will be lucky enough to see a second part of the book, just as exciting and full of intriguing and offbeat events as this one.
Explain your content rating:
The book contains a few sharp words. But they aren't conspicuous, and don't cause outrage. I didn't notice anything else offensive or indecent during the reading.
KEYWORDS
CHARACTERISTICS AND EMOTIONS:
ACTIVITIES, HOBBIES, PLACES, AND EVENTS: