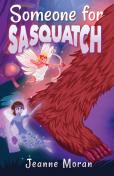 LitPick Review

In a world where fairies work to create friendship and love between humans, a fairy named Peri discovers a new method to build friendships between humans. Rather than using her friendship arrows, she uses a type of fairy dust that she has created. But when an older love fairy named Carmine reports her to the headquarters, she realizes that she may get in trouble for breaking protocol. Peri never meant to break the rules, she just wanted to give humans the best chance of connecting with each other. A lot of the other fairies start to agree with Peri, and everyone starts to choose sides between Peri and Carmine. In order to mitigate the conflict, headquarters decide that they should give both Peri and Carmine a challenge: see who can find a lonely Sasquatch creature named Sasparilla a match first. But while the fairies fight to beat each other, they find a sinister plot that goes way beyond a little rule-breaking. Will Peri and Carmine be able to put aside their differences in order to save all the fairies?
Opinion:
Overall, I really enjoyed reading this book. I liked how the characters in the book were fairies, which I think it is a very unique point of view for the story to be told from. I also enjoyed the plot of the story itself. I think it was a good combination of a fantasy book with some suspense. The author did a great job of describing the setting and characters in this book. Despite the book taking place in a setting very different from Earth, it was easy to understand what was going on. The fairies bewildered but excited reaction to things such as cartwheels and basketball demonstrated how their world was quite different than Earth. I enjoyed how despite Peri and Carmine being very different, they were ultimately able to work together. Peri is very upbeat and energetic, and willing to do whatever it takes to make others happy, while Carmine is uptight and a rule follower. This book showed how anyone can work together no matter how different you are, and how we can make a bigger impact if we all work together! Lastly, I liked how the book was a nice pace in that it didn't progress too fast, but there were also no parts of the story that felt dragged out. I think that this is the perfect book for readers who enjoy reading fantasy or adventure books!
Explain your content rating:
There is nothing offensive or inappropriate in this book.
KEYWORDS
CHARACTERISTICS AND EMOTIONS:
ACTIVITIES, HOBBIES, PLACES, AND EVENTS: