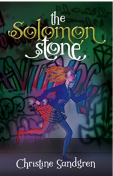 LitPick Review

Ruby knows she isn't normal. She has always been afraid of the water, despite living on an island. She doesn't know who her parents are. She also sees lines that form a grid connecting her to everything and everyone around her. As far as she knows, Ruby has no living family members. So it is a shock when Ruby finds out that she has two uncles and a grandma who want to take care of her. Finally, she will be taken care of. But having someone understand her may be more dangerous than she ever thought. An odd diamond, the mystery of her missing parents, and suspicious family members teach Ruby that to survive, she must trust her newfound friends and discover who she truly is.
Opinion:
The Solomon Stone is one of the best books I have ever read. It has an amazing combination of adventure, emotion, and mystery. It is nearly impossible to put down. In Ruby, Christine Sandgren has created a funny and cheeky girl. Ruby's attitude and manners are hilarious and quite accurate for a girl who has always taken care of herself. This book is great for ages 10-16. I recommend it to anyone who likes mystery and magic.
Explain your content rating:
There is nothing offensive in this book.
KEYWORDS
ACTIVITIES, HOBBIES, PLACES, AND EVENTS: