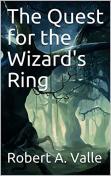 LitPick Review

Chaant and Ky'el are two brothers from the small, walled city of Almarra.
When their city comes under the attack by a Demon Lord and his army, they must find a way to protect their home.
When Chaant and Ky'el get separated in the fight against the Demon Lord, Chaant goes on his own venture to find the help of a wizard, so he can earn an enchantment to help the citizens of Almarra. On his quest, he meets a strange, yet beautiful girl named Anjelica. The two become fast friends, and although Anjelica doesn't know it, she possesses a special (and rare) power that may be just what Chaant needs to help find a wizard and save Almarra.
Ky'el also goes on a quest with an elite group of fellow warriors, but when he gets separated from them, he sets out to find Chaant and help find the wizard who can save Almarra from these deadly forces!
In The Quest for the Wizard's Ring, Chaant and Ky'el find out the true meaning of brotherhood, friendship, and loyalty while meeting new friends along the way and building bonds that will last a lifetime.
Opinion:
In The Quest for the Wizard's Ring, the author was able to construct an action-packed, flowing storyline that was able to come together beautifully.
He did a fabulous job pulling in the different perspectives from the 2 brothers from the different settings when they were not together, yet was able to make them mend together effortlessly.
I also really like how the author made the 2 brothers, Chaant and Ky'el, have opposite interests(Chaant a mage and Ky'el a warrior), adding a much needed difference to the characters and the plot.
If you are a fantasy lover who craves action, adventure, and suspense this book is for you!
Explain your content rating:
There is no offensive language or adult content mentioned in this book.
KEYWORDS
CHARACTERISTICS AND EMOTIONS: