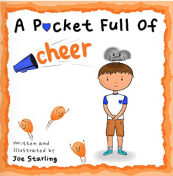 LitPick Review

Sam has always had "creatures" in his pocket. Whenever Sam is having a good time and feeling happy, yellow comes out! But when something doesn't go his way and he is upset, grey comes out. When grey is out, everything seems worse than it is. With the help of his friend Ryan, will Sam be able to control how he feels (and which creatures come out)? Sam just may be able to accomplish this if he tries his best!
Opinion:
I loved this book! The colorful illustrations were very cute and really added dimension to the creatures in Sam's pocket. Also, through Sam's creatures, the author did a great job of portraying the theme that you can control your feelings if you try. I think this book was very well-written as Sam's character seemed very realistic. Overall, I highly recommend this book! This book is perfect for people looking for an inspiring story about choosing your own path.
Explain your content rating:
Great picture book fro kids with a positive message.
KEYWORDS
CHARACTERISTICS AND EMOTIONS: