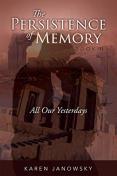 LitPick Review

WATCH THE LITPICK BOOK BRIEF VIDEO ON YOUTUBE!

Daniel and Nina are no longer the shy, hesitant characters introduced in the first book in The Persistence of Memory series. They are now a serious couple who can't keep their hands off of each other, much to the delight of their playful, teasing co-workers and teammates. Now that Nina knows who she is, she now faces the sad fact that her immortality means that her time with Daniel is limited. Meanwhile, Daniel questions whether his attraction to Nina is the result of true love or as part of her natural ability to cause men to lust after her. He feels like a different person around her, and having never acclimated completely to his super soldier form, this makes him even more uncomfortable in his own skin. But the reemergence of a character from Daniel's past causes him to put all doubts aside as he must step up to protect Nina from being taken back home to Uruk and to stop his past friend/present enemy from using the magic of her world to reset the past and erase their reality as they know it.
Opinion:
All Our Yesterdays is a strong follow-up to the ongoing story in this series. The flashbacks of Daniel and Nina's past lives help to broaden the reader's understanding of these characters and where they come from. The romance elements play a much more graphic and detailed part in continuation with the final chapter of Déjà Vu, lingering on the detailed exploration of Daniel and Nina's physical relationship as they learn how to be a modern couple. Those in it strictly for the romance side of the story will find this a welcome addition to the narrative, but story wise, it does little to move the plot forward.
The action sequences usually begin mid-battle, causing the reader to have to catch up to what's going on. But the mastermind behind these attacks makes for a rich and poignant plot twist along with their encounter with Nina's homeland, forcing both Daniel and Nina to make tough decisions that will affect not only their relationship but also the potential fate of the world. While book one was about the characters coming to terms with who they are, book two is about reconciling their past selves with their present ones, concluding in a shocking decision that will shape their future.
Despite its shift in focus to a traditional romance angle, there are still some great plot developments, even better character developments, and a continued curiosity as to how it's all going to end for Daniel and Nina.
| | |
| --- | --- |
| | Support small bookstores by purchasing this book here through bookshop.org - thank you! |
Explain your content rating:
Very graphic sexual situations, some language, and violence.
KEYWORDS