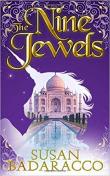 LitPick Review

When his father's speaking tour in India is extended to New Delhi, Gideon Hithersby, the main character of The Nine Jewels by Susan Badaracco, decides to join his parents in India. On the day of his scheduled departure, he discovers that one of his friends, Ashton, is also going to New Delhi with her cousin, who has been suddenly invited to study Indian folklore there. Although their reasons for traveling to New Delhi seem very different, Gideon suspects that it isn't a coincidence that they are going to the exact same place at the same time.
However, the oddity of it all doesn't end once they arrive. Gideon's life takes a turn for the worse when he learns that his mother disappeared less than 24 hours before his arrival. Witnesses claim they saw her being kidnapped by a beggar and then carried off in a flying chariot. Apparently, as she rose into the sky, she dropped her necklace to the ground.
Joined on his quest to find his mother by his friend Ashton, Gideon also makes two Indian friends, Zara and Meera. They tell him that the characteristics of his mother's kidnapping almost exactly mirror the ancient Mughal epic poem, the Ramayana, an important component of Hindu culture. After learning this, Gideon decides that the only way to get his mother back will be to take action exactly as Rama, the hero of the poem did to save his wife Sita from the clutches of the evil demon Ravana. Along the way, Gideon encounters new friends and enemies, both human and fantastical. Will Gideon be able to follow in Rama's footsteps but also make this journey his own? Most importantly, will Gideon and his new friends be able to rescue his mother?
Opinion:
The Nine Jewels by Susan Badaracco is a very fast-paced read, full of suspense that keeps the reader engaged in Gideon's quest. While the story begins in a very realistic setting, taking place during one of Gideon's father's lectures, it gradually becomes more unrealistic, adding in many fantastical characters such as unicorns, monsters, and animal kings.
I was initially disappointed when the realism gave way to fantasy but was soon pleasantly surprised that the enthralling storyline was able to shine through the layer of fantastical creatures and events. I found this book to be very unique because of the author's ability to weave Indian history and Hindu culture into a fictional, fantastical story. Throughout the book, the reader learns the basic story of the Ramayana and is also introduced to several other aspects of Hindu culture, such as their belief in demons.
One thing I struggled with in this book was the abundance of minor characters. Especially at the beginning of the novel, I felt like I was spending quite a bit of time trying to remember who was who and figure out the connections between the characters. But as the number of fantastical creatures grew, the number of other characters decreased; and after the first few chapters, I had a pretty good handle on all the characters.
This book also contains an inspiring message - never give up, no matter how impossible a task seems. Although they are in a foreign country, they start their quest knowing very little about the Ramayana and face many trials along the way. Gideon and Ashton are able to triumph over evil because of their perseverance and new friendships.
Another moral teaches readers not to underestimate someone just because they have a disability. This is shown throughout the story as Zara's ability to "see magic" and her knowledge of the Ramayana earn her a pivotal role in Gideon's quest, despite the fact that she is deaf.
I would recommend this book to readers ages 11 and up who love fantasy and are excited to learn a little about Hindu culture!
Explain your content rating:
This book contained no offensive or mature content. While it did mention several aspects of Hindu culture, this book contained no religiously persuasive perspectives.
KEYWORDS
CHARACTERISTICS AND EMOTIONS:
ACTIVITIES, HOBBIES, PLACES, AND EVENTS: