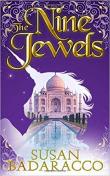 Gideon suspected it wasn't a coincidence.
Ashton's announcement of her plans to accompany her sister to New Delhi matched his own arrangements to catch up with his parents on their speaking tour in India.
But when he arrives, there's only one thing on his mind. His mother is missing and he'll do anything to find her. Even if it means negotiating with kings, transporting mischievous monkeys, and battling flesh-eating monsters.
Ashton's temper flares when she finds out about the kidnapping. Maybe it's because she can't stand to see injustice or maybe there's a little spark between the two of them that no one anticipated.
There's unicorns, a mysterious stranger, and danger unlike anything they've encountered before. Welcome to exotic INDIA!