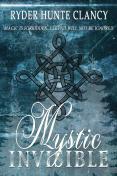 LitPick Review

Monte Darrow is 15 years old, and he's something special although he doesn't know it quite yet.
He lives in Salem, Massachusetts where he is usually spending time at the beach with his older brother Garrick having loads of fun. That is...until something strange happens. Did a seashell just save his life? And who is that mysterious girl?
When Monte is forced to move to Scotland, he is less than pleased. His parents are so busy working that Monte and Garrick have to stay with their Uncle Jarus! And to make matters worse, Monte's brother is starting to act like a real jerk. It seems he's more interested in girls nowadays to even talk to Monte.
Where's the guy who would always make him laugh? Where's the guy who used to wrestle with him? Where's the guy who used to make him feel better?
But, there is an upside. A woman named Moira is around, and boy does she make Monte's heart flutter. Okay, so maybe she's his dad's age, but Monte likes her and so does Garrick. But is Moira really the right person to trust?
Oh, and not to mention the fact that teenage boys are disappearing in the area too.
Scotland sure is lovely, isn't it?
Opinion:
Mystic Invisible is all about Monte and his life as a young mystic. From older brothers, wands, cat siths, strange girls, and some not-so-trustworthy characters, this book has got it all.
The author did a great job developing the characters. Each character is unique, and there are so many details that you can almost imagine what they would look like.
I would recommend this book to a reader between the ages of 10-15.
Now go ahead and read this book. Seriously. You won't be able to stop reading it.
Explain your content rating:
There is no bad language and anything that would be considered inappropriate to kids and teens.
KEYWORDS
CHARACTERISTICS AND EMOTIONS:
ACTIVITIES, HOBBIES, PLACES, AND EVENTS: