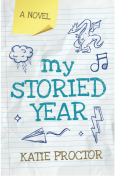 LitPick Review

Dragon Stewart, the main character in My Storied Year, by Katie Proctor, got his unique name because of his mom's obsession with Harry Potter. As the book begins, Dragon, a 7th grader at Piney Woods Middle School, has too many problems to count. His mom is trying to take care of Dragon, his younger step-sister and his toddler cousin all on her own. This is difficult for her to do because she has diabetes and smokes and can hardly get out of bed some days. In school, Dragon struggles with dyslexia and gets teased by the school bully, Travis, about how he smells. Dragon quickly learns that Travis is not going to change, but maybe, with the help of his English teacher, Mrs. Parkman, Dragon might be able to improve his reading and writing. One of the books that Mrs. Parkman reads to his class makes Dragon realize that maybe his stepdad and uncle leaving the family was for the best. But then when he gets home from school one day, Dragon finds his mom lying unresponsive with an empty medicine bottle beside her. He immediately calls 911 and an ambulance rushes her to the hospital. Will his mom survive and get better? Will Dragon be able to feel like a normal 7th grader? Will he overcome his challenges with dyslexia and believe in himself?
Opinion:
My Storied Year, by Katie Proctor, is a book that I think middle school kids will love to read. I was really pulled into the story and couldn't put the book down. I'm the same age as the main character, Dragon, and I found the book to be very relatable. I liked the author's detailed descriptions of Dragon's house and his classmates in school. Katie Proctor includes just the right amount of characters in this book, all with very unique character traits. Dragon's grumpy mom, his troublemaking sister, his kind teacher, and the mean bully in school were all believable characters. My Storied Year has many plot twists that kept me hooked, such as when Dragon's mom came out of the hospital a changed person. I highly recommend this book to 9-13 year olds.
Explain your content rating:
This book includes some issues such as family conflict, violence, and addiction which may not be appropriate for readers under age 9.
KEYWORDS
CHARACTERISTICS AND EMOTIONS:
ACTIVITIES, HOBBIES, PLACES, AND EVENTS: