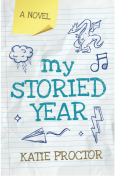 I'm hoping these kids won't forever remember
the smell as me.

Dragon Stewart, seventh-grader at Piney Woods Middle school, works hard every day to avoid bullies and his own weird sister. But things change when his mom gets sick and social services steps in to make sure they are safe and well taken care of. (Spoiler: They're not.)

School has always been hard for Dragon; dyslexia is just one of the deep, dark secrets that keep him alone in the school hallways. He is sure that he will never do well in school, never belong, never be enough. (Spoiler: He's wrong.)

Fans of Gordon Korman's Restart and R.J. Palacio's Wonder will enjoy Dragon's inspiring journey to discover that his story matters.