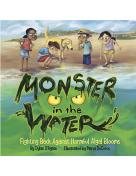 LitPick Review

Monster in the Water is an excellent picture book that explains causes of water pollution in oceans and lakes. All of the kids in Seaville are very excited about going swimming on their beachfront. But when they arrive, there is a sign that says no swimming, and the water is green! Is there a monster in the water? It may not be a monster, but it is something scary: harmful algal bloom! Will the children and the town be able to fight this monster?
Opinion:
I love that this book was written with children in mind. Even though it included complex information, it was written in a way that children could understand with simple vocabulary. I also liked that this book was fun to read, and I found myself zooming through it despite it including a lot of science, which I am not usually fond of. I think the author also includes great illustrations that help show the point of the story. Overall, I gave this book 5 stars since it was easy and fun to read yet also informative!
Explain your content rating:
This book is appropriate for children.
KEYWORDS
ACTIVITIES, HOBBIES, PLACES, AND EVENTS: