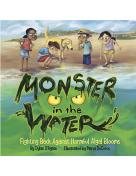 THE CHILDREN OF THE FICTIONAL TOWN OF SEAVILLE
get a nasty surprise when they go to their local beach and find it closed.
Is there a monster lurking in the water? The kids enlist the help of a local
scientist to learn the causes of the harmful algae growing in their beloved
ocean and what they can do to defeat this destructive monster! Written by a
kid for kids, Monster in the Water is an engaging and empowering story.