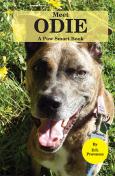 LitPick Review

Odin (or Odie as his friends call him) is a very curious eight-year-old dog. Not only is he curious, but he is very intelligent too! He knows many tricks such as looking out the window on command or giving high fives! Odie lives in a blue and white house, and he loves to explore the world around him. In this book, Odie introduces himself to you and takes you along on his day so you can see all the things he enjoys in life. Odie also knows a lot about various animals and things around his house, and he teaches you all about them in this book. Whether you want to learn about lizards or the beach, Odie has something to teach you!
Opinion:
I really enjoyed getting to know Odie through reading this book and learning things such as he likes to play with his friends. I also liked how this book taught me about a variety of different things, from places to things to animals. It showed me how much you can learn by being curious. There was also a lot of cool vocabulary in this book (such as brindle!). There was a glossary at the back of the book, which helped me understand and learn all the new vocabulary. Another thing I enjoyed were the colorful images included in this book. I really liked being able to see Odie and the things he is describing in the text through the photographs. I also liked how we got to see the world through Odie's perspective as a dog! Overall, I highly recommend this book to readers looking for an awesome book to learn some new facts related to a dog's life!
Explain your content rating:
This book is appropriate for children.
KEYWORDS
CHARACTERISTICS AND EMOTIONS:
ACTIVITIES, HOBBIES, PLACES, AND EVENTS: