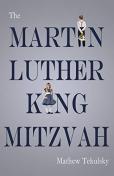 LitPick Review

In the year 1966, Adam Jacobs, a 12-year-old Jewish boy, follows Sally Fletcher, a blonde, Catholic girl, home from school. Adam thinks Sally is the prettiest girl in the seventh grade, and he has a crush on her. If his dad, who is a Holocaust survivor figured this out, Adam would be in so much trouble. When he gets bullied for being Jewish, he doesn't understand why he is being bullied. He wonders, "What is the difference between Jews and Catholics?"
One day, Sally turns around and asks him to carry her books, and their friendship sparks from there. Adam, Sally, and his new friends protest to stop the war. He meets many important figures such as Martin Luther King who make an impact in his life by showing him discrimination is wrong. His bar mitzvah is just around the corner and after meeting those people, hearing them speak, and hearing them sing, he knows what to do for his bar mitzvah--talk about Martin Luther King.
Opinion:
The Martin Luther King Mitzvah was a great book to read. I finished it in about 3 days because it was so interesting. I have never read a book like it. I love reading Holocaust books, but this was a little different because it took place in the sixties, not in World War II. There were no parts that I didn't like. I liked reading this book because I learned more about Judaism. I also learned what it was like between Jews and Catholics at that time, and the characters were great to read about. There are multiple themes in this text, but I think the most important one is that discrimination is not right and that you should not judge someone by their race, religion, culture, beliefs, gender, and ethnic background. We should spend time with someone and get to know them before you draw conclusions. I would rate this book 5 of 5 stars, and I would recommend this book to ages 11 and up.
Explain your content rating:
This book has some inappropriate language.
KEYWORDS
CHARACTERISTICS AND EMOTIONS:
ACTIVITIES, HOBBIES, PLACES, AND EVENTS: