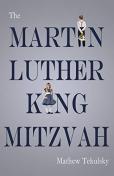 LitPick Review

WATCH THE LITPICK ANIMATED BOOK REVIEW ON YOUTUBE!

Adam is Jewish. Sally is Catholic. They both live in the same town, are in 7th grade at the same school, and share many of their classes. And they both want the United States' involvement in the Vietnam War to end. Because of their similarities, Adam and Sally become fast friends. But it's 1966, and in Beachmont, religion matters. Almost everyone in the town believes that Catholics and Jews shouldn't associate. With his bar mitzvah quickly approaching, Adam, the main character in The Martin Luther King Mitzvah by Mathew Tekulsky, is being pressured by his father to attend more Hebrew school. In his father's eyes, Sally is a distraction that will only cause trouble. Sally's parents think of Jews as "dirty" and warn Sally to stay away from Adam. But Adam and Sally aren't willing to give up their friendship because of a stereotype.
Soon, they find themselves spending time together in secret. When Adam turns his attention toward his mitzvah, a good deed that he must complete before his bar mitzvah, Sally is happy to help. They decide to create a campaign to promote the removal of US troops from Vietnam by increasing awareness in Beachmont. Soon, they are in the news and they even get a chance to meet and be inspired by Martin Luther King. Will their families ever truly accept Adam and Sally's friendship? Will their friendship change the religious stereotype in Beachmont? Will Adam and Sally succeed in their fight to end the war in Vietnam?
Opinion:
The Martin Luther King Mitzvah by Mathew Tekulsky is a very captivating and enlightening book. The many storylines combine to form a well-developed novel. Although some of the characters and events are fictional, Mathew Tekulsky weaves a lot of factual history into the book; I learned a lot about what life was like in America during this time period. I also thought it was very interesting to learn about the perspective that ordinary American people had on the United States' involvement in Vietnam. Mathew Tekulsky did a great job of weaving interesting information about the differences between Judaism and Catholicism into the story. I like that Adam and Sally challenged the religious stereotypes of the time; this sets a good example for teen readers facing current stereotypes. I would recommend this book for fans of historical fiction, ages 9-14.
Explain your content rating:
This book contains no mature content. It does talk about the differences between Judaism and Catholicism and includes the historical perspective on these religious groups.
KEYWORDS
CHARACTERISTICS AND EMOTIONS:
ACTIVITIES, HOBBIES, PLACES, AND EVENTS: