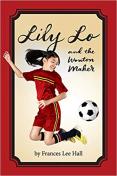 LitPick Review

WATCH THE LITPICK BOOK BRIEF VIDEO ON YOUTUBE!

Lily Lo, the main character in Lily Lo and the Wonton Maker by Frances Lee Hall, is a nine-year-old girl who loves playing soccer. Lily's widowed mother can't come to her soccer games because she's too busy working, which leaves only Lily's grandfather, Gung Gung, to watch her play. Lily tries hard to help Gung Gung fit in with all the other enthusiastic, cheering parents, but all her grandfather seems to do during the games is read and clip coupons from the newspaper. Despite her attempts to stay focused on the game, Lily often looks up into the bleachers to see if her grandfather is watching her play. This causes her to make mistakes that sometimes cost her team the win.
After one disappointing loss, Gung Gung brings Lily home and teaches her how to make wontons, just as his mother once taught him. Somehow the simple act of folding the little dough pockets makes Lily feel better. When Lily's team gets to "The Big Match," she gets distracted once again by her grandfather and it's the last straw for her team. Even her best friend loses patience with her. Then Lily remembers the healing power of wontons.
Opinion:
Lily Lo and the Wonton Maker by Frances Lee Hall is a realistic and relatable story. It portrays the ups and downs of the complex relationships between Lily and her friends and family. The reader's interest is captured as he/she gets invested in Lily's story and experiences a roller-coaster of emotions along with her. Although there were a lot of minor characters who were only mentioned once, the important characters were easy to keep track of. The book is sports related, but it's really about relationships and the challenges of navigating a mix of cultures. Ultimately, it's a story about the power of family: even though Lily is embarrassed at first by her grandfather's unique behavior, she eventually learns that he is supporting her in his own way and that family traditions are worth holding on to. I recommend it to readers ages 8-12.
Explain your content rating:
There is nothing religious, violent or offensive in this book.
KEYWORDS
CHARACTERISTICS AND EMOTIONS: