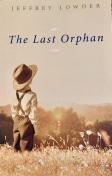 Genre -
Historical Fiction
Book Review

CLICK HERE! to see LitPick's Book Brief Video for The Last Orphan

Just before the start of the Civil War, the Dunnings, a Mormon couple who have settled in Utah, live in constant fear that their son, Tommy, will be taken away from them. Tommy was taken in after his birth parents were murdered in an attack on their wagon train, and his new mother, Eva, and her husband, Bennett, have raised him for the past three years. However, over in Arkansas, the boy's biological grandmother, Ruby Seddon, has been looking for her grandson ever since she learned of the attack. With the help of a politician, an outlaw, and her own determination, Ruby will stop at nothing to get Tommy back. However, she fails to underestimate the fact that Tommy has lived a relatively happy life with his new family and that he might not want to leave his adopted mother—nor will Eva willingly give him up. Set against the historic backdrop of the U.S. territories just before one of the most turbulent times in history, The Last Orphan explores the complexity of family, relationships, race, and religion in a personal, heartbreaking tale.
Opinion:
The Last Orphan is slow to start, despite delving right into action as Eva hides Tommy from the militia in his best friend Clara's cellar. It takes some time to catch up on the details of the situation, but once all of the key characters are in place, the story becomes more compelling and suspenseful as the cat-and-mouse game ensues between the Dunning family, the U.S. government, and Ruby Seddon. The true historical situation that inspired the novel is cleverly worked into the plot, educating readers about a piece of U.S. history that we don't learn about in school. It also explores the Mormon faith as part of the driving motivations behind certain characters, without vilifying it or its heroes. As the suspense builds, so does the desire to keep reading in an attempt to find out which woman will win the title of Tommy's caretaker...and how the rest of the characters will help or hinder their pursuits. The ending is abrupt yet satisfying. As with many historical tales told from a modern point of view, The Last Orphan points out the error of our ways and reminds us that large concepts such as history, family, and religion are not as starkly defined as some might like to believe.
Explain your content rating:
Some graphic violence, sexual situations, and language.
KEYWORDS
ACTIVITIES, HOBBIES, PLACES, AND EVENTS: