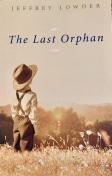 Parowan, Utah Territory—August 12, 1859

Two years after his mother and father are murdered in an attack on their California-bound wagon train, little Tommy Dunning crouches in an old root cellar, quivering with cold...and raw fear. Somewhere just above him, men are searching—army men who want to take him away from the only home he remembers.

The Last Orphan is the journey of a courageous five-year-old and two strong women, each of whom believes God has chosen her to raise the boy in love and the "correct" faith tradition.