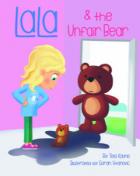 LitPick Review

LaLa and her stuffed bear, Beary, invite Dennis and his stuffed bear over to play. Dennis wants to play catch with the bears, but his bear is a lot bigger than LaLa's. This is extremely disappointing, and LaLa isn't sure she wants to play with Beary ever again. Can a lesson in gratitude save the day?
Opinion:
LaLa and the Unfair Bear is a picture book that highlights the fact that differences can be perceived as both good and bad. LaLa and her mom show the importance of finding the good in life, even when everything seems unfair. The characters are very convincing, and the colorful, detailed illustrations give the story more dimension.
The main character, LaLa, has a realistic relationship with her mother, similar to my relationship with my mom. LaLa also deals with her emotions in a way that many readers might find relatable, and I love the way the author inserts emotion into the story without it feeling tacked on. Readers can connect to LaLa and understand her feelings. LaLa and the Unfair Bear is a great book for any parent to read with a child, best suited for kids ages 10 and under.
Explain your content rating:
There is nothing offensive in this book.
KEYWORDS
CHARACTERISTICS AND EMOTIONS: