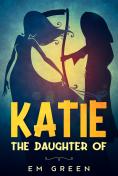 LitPick Review

What would you do if death followed you everywhere you went? Katie - The Daughter Of tells the story of a girl who literally lives that very scenario, but not in the way one would think. Seventeen-year-old Katie Death is the daughter of one of the world's many Grim Reapers, James Death. Grim Reapers are Immortals who serve to help separate souls from their dead hosts. As her dad is Immortal, Katie has heard stories about the Immortals her whole life. These stories include things like the battle between Upstairs and Downstairs and between Angels and Demons. Even so, these stories have always just been stories to her; they have never truly affected her. In fact, beyond her dad being an immortal Grim Reaper, Katie lives a relatively normal life.
Katie and her parents live among normal people in a regular neighborhood. She even goes to normal public schools. Unfortunately, even though James can look like a normal person, that doesn't stop Mortals from feeling as if there is something peculiar about him. Because of this, Katie's family has had to move around a lot in order to avoid being discovered. This frequent moving coupled with Katie's unusual last name usually marks her as weird at the schools that she attends. As such, she rarely makes many friends before having to move again.
Her somewhat normal life all changes one day, though, when she faints out of nowhere and is struck with a series of visions. When she tells her father about this, he tells her about a prophecy that has affected both the Mortal and Immortal worlds for an eternity. He also tells Katie that she might be the key to tipping the balance of power between Upstairs and Downstairs. Suddenly, Katie is thrust into a battle between Upstairs and Downstairs that threatens to change not only her life, but the entire world forever.
Opinion:
I quite enjoyed reading Katie - The Daughter Of. It was a truly interesting book with an unusual, unique concept that I have never seen written about before. As such, this book provided a welcome breath of fresh air. This book was also not very predictable, making sure that the book was exciting and kept me guessing throughout. Further, I greatly enjoyed the book's pacing. It was not simply talking the whole time or fighting the whole time; it did a good job of finding a balance between the two that served to make a well-written book. Even though I did like most of the book's features, I do have a few critical comments. First, a lot of the exposition did not seem super convincing. Mainly, this is because I felt the information was revealed either too quickly or in an odd way, such as being too direct. Additionally, the grammar and punctuation in this book had me struggling to follow the dialogue at a few points as it seemed that there were quite a few errors. These errors served to damage the book's flow and take away from the reader's immersion. In spite of these errors, the book was still very enjoyable, and I would definitely be willing to read the next book in the series if provided the opportunity.
Explain your content rating:
There was minimal mature content including some light language, some blood, and some death. Additionally, this book may offend some Christians, as it claims that Jesus was only resurrected as a result of a mistake made by the Grim Reaper. This is only mentioned once, so it is not a big plot point, but it is still mentioned.
KEYWORDS
CHARACTERISTICS AND EMOTIONS:
ACTIVITIES, HOBBIES, PLACES, AND EVENTS: