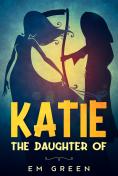 Katie is seventeen years old and starting another new school. For once she's hoping that she'll fit in; she's hoping that her new school mates won't find out anything about her weird family.
How weird? Well her fathers a two-thousand-year-old Immortal and happens to have the day job of Grim Reaper, making her literally the daughter of Death. Her Dad tries so hard, but everyone who meets him can sense there is something very strange and scary about him. Add the last name of Death, and a lot of Mortals come closer to the truth than they should and necessitate moving to yet another new town.
Everything starts so well this time, but soon Katie gets dragged into a millennium old battle between the Angels who reside Upstairs and the Demons who inhabit Downstairs. A battle thats outcome will change the fate of every Mortal alive.