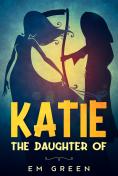 LitPick Review

Katie is the teenage daughter of James and Susan Death. Yes, Death is their last name as her father is the Grim Reaper, so as you can imagine Katie's story is nothing like a normal teenager's would be. She begins a new school year in a new town and new school hoping that this once she will find a friend. She is thrilled when she doesn't only find one great friend in Jodie, but rather a group of friends! The start of her hoped-for-normal school year comes grinding to a hault after a catastrophe on the hockey field. Katie must figure out what is going on, who her friends truly are, and how to help the balance of her life and the lives of many others.
Opinion:
This book, "Katie, The Daughter Of" was a very cleverly written book. Given that her dad is the Grim Reaper, it opens the door to a new story and many humorous instances in the life of a teenager who is trying to live normally. The author gave a lot of thought into making the book work - for instance, how a mortal wife would want flowers and live things in her house when she's married to death. One other aspect that made me smile was when James would use his work (Reaper) voice and the author put it all in capitals to emphasize, and also how, in turn, Katie and her mom would always have to remind him to tone it down in public as he had no social skills (obviously - he works with death!) (See content comments below)
Explain your content rating:
My one huge critique that kept me from giving it a 5 star review was the fact that the main thrust was with angels and demons. I believe in Christ Jesus, and the joke about that was offensive to me - not funny as the author meant it. As a believer, I know that there are angels and demons, and they are not to be taken lighly. Therefore, I wish the author would have used another fictional good and evil representation so that those spiritual things are not put to light in a humorous way. This story makes Jesus' resurrection a mistake and deals with angels and demons in a very light/false way.
KEYWORDS
ACTIVITIES, HOBBIES, PLACES, AND EVENTS: