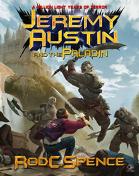 LitPick Review

Jeremy Austin and the Paladin is the continuing adventure of Jeremy Austin and the other TerraGen kids that came to planet Genesis. Ever since entering Genesis, the TerraGen kids have faced nothing except hardships and death. Now, the stakes are getting even higher. With the Shadow Lord aware of Jeremy being on Genesis and the Paladin having arrived, the Shadow Lord is sending his armies after Jeremy and his companions. Along the way, the kids eventually split up after an incident, putting the kids in even more danger than ever before. With the Shadow Lord's massive army closing in seemingly from all sides, the kids will be faced with harrowing choices and no easy way out. Will the kids be able to survive on this unforgiving planet? Can the Paladin learn to control his powers before it's too late? Find out in this wonderful book!
Opinion:
Rod C. Spence is writing a fantastic, thrilling, and harrowing series, and I'm loving it! Not only does the world seem realistic, but you're also thrown into the characters' shoes, making you emotionally invested in them. This series is one that I'm coming to enjoy, and I really want to see where it goes from here! At times, it was a little confusing because the point-of-view changes from character to character frequently. I can definitely see the inspiration from the Lord of the Rings series a lot more in this second book. From hoards of aliens (called gnomes by the locals) to a sprawling world that seems endless, this book doesn't disappoint. I would recommend this book to ages 12 and up because of killing, death, and intense fight scenes. If you enjoyed reading The Lord of the Rings by J.R.R. Tolkien, this book is for you!
Explain your content rating:
There was some death, killing, and violent fighting scenes.
KEYWORDS
CHARACTERISTICS AND EMOTIONS:
ACTIVITIES, HOBBIES, PLACES, AND EVENTS: