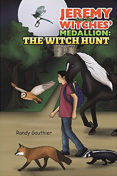 LitPick Review

It's 1612, and accused witches are constantly being hanged. After the Pankenham family purchases the land of one of those hanged witches, they discover a box of old coins and a medallion. They are able to sell the coins and end up keeping the medallion. Back in the present day, Jeremy is handed down an old family medallion as a birthday gift. Jeremy is a 17-year-old in the United Kingdom, living a relatively normal life. But after touching a magical feather, he is transported back in time with his medallion. And once a magpie steals his medallion and flies away, Jeremy knows he must get back his precious family heirloom. Will he be able to find the magpie and get his medallion back?
Opinion:
I really liked this book. One of the things that made this book special was that it takes place in London. I think this was interesting because I didn't know a lot about London back in the 1600s, and I was able to learn that from this book. Additionally, the protagonist's time-traveling allowed me to see the differences in present-day London. Another thing I like about this story was the sense of adventure and exploration I got while reading it. The one thing I didn't like about this story is the fact that some of the language and dialogue seemed repetitive. Overall, I recommend this book to readers who like adventure and learning about new places.
Explain your content rating:
Nothing offensive in this story.
KEYWORDS
ACTIVITIES, HOBBIES, PLACES, AND EVENTS: