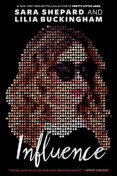 LitPick Review

Four girls. Three scandals. Two murders. One city. And millions of secrets…
Delilah Rollins is the newest influencer to hit Los Angeles. Despite her overprotective parents and humble origins, she's managed to edge her way into the competitive realm of online fame. And there are two girls qualified to teach her the tricks of the trade: Fiona Jacobs and Jasmine Walters-Diaz, long-standing influencers with millions of followers.
But nothing is as it seems. Fiona is the pretty girl online, but when she looks in the mirror, the voice in her head strangles every bit of self-confidence. Jasmine has a huge fanbase from her time acting as a character named Lulu C., and still, she wishes for the day she can shed Lulu's rainbows-and-sunshine personality and settle into who she really is.
Then there's Scarlet Leigh. Everyone in the world seems to want to marry her, kiss her—or kill her. She's gorgeous beyond words and famous beyond measure, the kind of influencer who is at once relatable and flawless. Delilah, Fiona, and Jasmine all hold a special grudge against Scarlet. But how much of Scarlet's life is for the screen, and how much of it is real?
Trouble is brewing in the festering streets of LA. And when an unthinkable series of events brings the four girls together, they're left picking up the pieces of an unsolvable mystery. People will do anything for what they see online...even if it means murder.
Opinion:
Influence was the most intoxicating book I've read this year! A breakneck plot with different characters and perspectives, addictive online feuds, and a twisty mystery with an unconventional culprit or two. If nothing else, I had the time of my life reading about the gritty world of influencers. Execution is key for thriller books, and this novel delivered beautifully; there were so many twists, turns, realizations, and double-backs that even when I thought the mystery was finally solved, there was always another piece to the puzzle. The ending even ties back to the prologue in the most delicious way. With that being said, however, this still wasn't a perfect book. Personally, I was not the biggest fan of the writing style. It felt a bit stilted. The ending also felt too rushed: the characters recovered almost immediately after the mystery was solved, going back to their old lives and romances with unnerving pep in their step. The happily-ever-after component was manufactured rather than eased into. For the most part, though, I was sucked in by the story, and it was such fun to read. If you are a fan of the scintillating characters in Karen M. McManus's One of Us is Lying or the adrenaline-shot chaos in Sona Charaipotra's Tiny Pretty Things, this twisty novel is perfect for you!
Explain your content rating:
There were some instances of profanity.
KEYWORDS
ACTIVITIES, HOBBIES, PLACES, AND EVENTS: